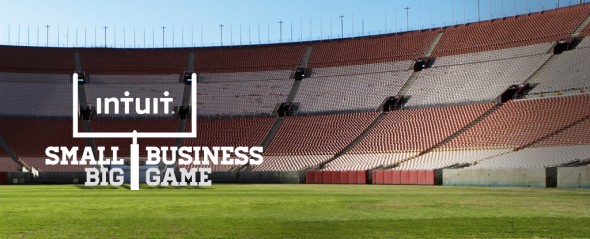 Small Business Big Game
Small Business Big Game was a yearlong program that put small business owners on the national stage with the opportunity for one small business winner to reach 100 million plus Americans in one sitting. The program engaged small businesses over a nine-month period during which small businesses were asked to share their stories with the world, while rewarding them along the way with grants and other incentives, with a big pay-off for one lucky small business at the end. The program culminated with one small business getting a fully paid for and produced advertisement on the Super Bowl, which would spotlight small businesses on the world stage and give them the opportunity big business only can traditionally afford. Intuit had never purchased an ad for itself before – but wanted to make the point of the importance of small businesses by purchasing an ad for a small firm with less than 50 employees to help spur growth. It was time to make small business big – and Intuit did just that through its fully integrated campaign.
research and insights
To start, the team held 25 focus groups and surveyed 50,000 of its 4 million small business customers, uncovering three core insights. The first, and most important, was that small businesses were looking to get connected to people like them. Next, they wanted access to business tips. Finally, they wanted a bigger voice for their business and all small businesses in the US market. Intuit, along with its agencies, conducted an analysis on media and social channels to determine whether small businesses were properly represented in post-recession recovery stories and found that only 30% of stories focused on the key foundational element of the US economy – small business. In selecting a national stage opportunity to elevate the importance of small businesses, Intuit conducted research on what opportunities yield the best results for big business. In doing so, the Super Bowl emerged as a clear winner – with more than 50% of the audience watching the Super Bowl merely to watch the ads - it was ideal for giving small businesses a voice.
strategy
1. Engage small businesses and consumers with a program that gives small businesses a voice to drive growth and also provides them with resources and technologies to drive success.
2. Leverage small business passion to engage with consumers/potential customers to support small businesses by getting them to the Big Game.
3. Align with key small business and football influencers to spread the word about Small Business Game and drive program participation.
execution and tactics
The program was focused on driving small business visits and sign-ups at the Small Business Big Game, so we chose to leverage celebrity and serial entrepreneur Bill Rancic to deliver the message via a media blitz. Additionally, the team drove social engagement by leveraging coach Jimmy Johnson to fire up small businesses to get in the game. Intuit's owned communications channels then made sure that every external message focused on themes related to the program, as well as content related to small business growth, success and passion.
Leveraged celebrity spokespeople to deliver messages related to small business champion and success themes.
Created a program hub – www.SmallBusinessBigGame.com – housing resources and contest elements to drive entries.
Offered small businesses special product offers to drive product sign-ups and awareness of Intuit products.
Created a Small Business Big Game Playbook, which provided content and expert commentary on topics near and dear to small businesses.
Leveraged @Intuit and product social presences to reach small businesses including #TeamSmallBiz
Staged small business cash mobs to create viral videos with Bill Rancic and Jimmy Johnson to excite the small business community.
Worked with small business owners in the top four to ensure they had the infrastructure and content needed to be successful to a national audience.
effectiveness and results
The program put the plight of small business on the editorial agenda and drew global attention to the 15,000 small businesses that engaged in the program, many of whom experienced unprecedented business growth and brand awareness. For Intuit, the program increased the company's brand awareness as a supporter of small business and had business impact. Small Business Big Game drove thousands of new customers into the franchise with new product sign-ups, drove 13 billion traditional and social media impressions, drove new business growth for the participating small businesses, and increased positive sentiment of small businesses that "Intuit Cares."
------
Business objective: Increase business opportunities for participating small businesses.
Result: All small business participants have increased business opportunities since participating, especially the top four. For example, winner GoldieBlox was able to get their toys distributed in Target due to their Super Bowl ad, and top four finalist Barley Labs signed a deal with Wag.com and moved into a new manufacturing facility due to increased interest from the program.
------
Communications objective: Generate positive WOM and media coverage in business and consumer interest outlets that positions Intuit and Small Business Big Game as a key facilitator of small business growth via 2 billion media impressions and 55% message pull through.
Result: Intuit's Small Business Big Game program has been the largest coverage driver in Intuit's history, generating 13 billion impressions with more than 3800 articles. Coverage metrics include:

95% of coverage underscores importance of small businesses.
More than 50% of the coverage mentions Intuit small business flagship product QuickBooks
Tone is 95% positive
98% of articles feature direct links to the site
Video for Small Business Big Game